Author: Bob Abraham
Protecting Your Investment in a Client with Succession Planning Advice is Smart Business
You've likely heard the saying: "The only constant in life is change." Most asset based lenders recognize this "reality" and they plan ahead with their clients to tackle future challenges, such as a change in management. The following fictitious tale shows how it's done.
The Story of Susan and John
Some six years ago, Susan Matthews told her lender, John Deep-Pockets, that she wanted to retire at age 55 with her husband in Maui. She wanted to turn over Matthews Foods to her daughter, Abigail.
John was quite concerned about this move, since he knew firsthand how bad the failure rate was for second-generation owners. On top of that, Abigail, a young speech therapist, lacked the manufacturing experience, technical know-how and fiscal discipline that had made Matthews Foods a model borrower for the last 20 years.
John knew he had to have a heart-to-heart discussion with Susan about the future of Matthews Foods. Although Susan really wanted to see Abigail take over the reins, she wondered if Abigail was truly qualified for the job and willing to dig in. Moreover, Susan wondered if Matthews Foods would survive her.
When Susan admitted that her daughter really didn't have much of a "head for business" or even an interest in learning the trade, she gifted stock to Abigail, which provided her with a passive income stream, as well as a seat on the company's board of directors. Susan's treasurer filled in as interim CEO and assembled a professional management team that would handle all the day-to-day operations going forward.
Susan did make her dreams come true and retired in Maui. Although she isn't involved with the company anymore, her legacy still lives on through Matthews Foods. The new management team took the company to the next level, and is currently considering a public offering.
Get up Close and Personal
At some point all companies outgrow the "first-generation" entrepreneurs. Maybe the founder wants to retire, or has health issues. Or perhaps the business reaches a critical mass that exceeds the founder's abilities. When current management is struggling just to stay afloat, the owner must deal with some tough choices. For example, should it bring in a family member, sell to a larger organization or hire more experienced outsiders? In order to recognize when it's time to upgrade management, lenders should visit the borrower's premises to get acquainted with all the staff.
When interviewing owners and managers, it's important to consider their health, ages and retirement goals. Determine if the owners are so buried in administrative chores that they are spending less time in important management activities such as selling new accounts and brainstorming ideas.
Also, ask to see the business's organizational chart and job descriptions. Every company should have a tiered structure and a viable succession plan. Such planning can help minimize the risk of relying too heavily on key people. Also evaluate the qualifications of any up-and-coming managers. Consider whether they truly have what it takes to run the show. If they don't, mentoring and training are in order.
Time for Change?
If one of your borrowers is in a similar situation as Susan, it's time for a management upgrade or change. With higher-than-average unemployment rates in the United States, it's truly an employer's market. There are hundreds of skilled but out-of-work managers that would likely be eager to jump aboard your borrower's ship.
Lenders can help introduce borrowers to their networks of business contacts. Moreover, lenders often know of retired corporate executives who would be willing to fill a seat on the board of directors. Experienced people like these can be invaluable advisors to a business in need of advice.
As a lender, you value established customer relationships. And when you see a change in a relationship on the horizon, take advantage of the opportunity to render sound advice and prepare yourself for the future.
………………………………………………………………………………………………...............................................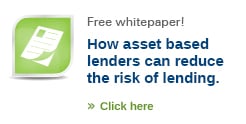 Freed Maxick's Asset Based Lending Team works with dozens of asset based lenders across the country. We can assist you in evaluating the integrity of your customers' collateral by performing pre-loan surveys and rotational collateral monitoring field examinations.
We also provide specialized succession planning services to assist your clients with ownership transitions.
For more information about our services for asset based lenders, contact us here, or call us at 716.847.2651.