Recent Posts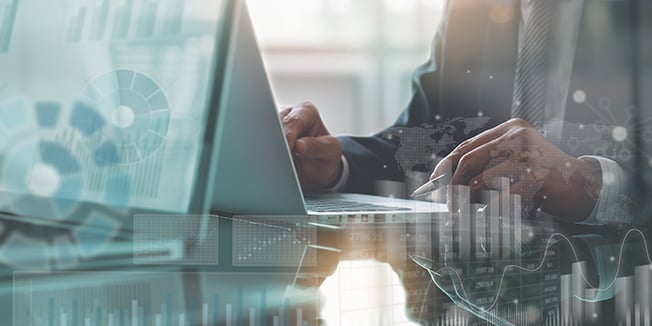 There are many personal qualities and traits that distinguish successful business owners—but they all share one thing in common: Through whatever means possible, they can understand at any point in time how their business is performing based on growth projections, execution, profitability and capacity.
If you're running a business, are you able to achieve these insights with the tools at your disposal?
If the answer is no, your business may be headed down a dangerous path—and you may not even know it. What to do? A first step is to consider the executive dashboard. If you currently use one, does it deliver broad insight on these areas? If you don't have one, you should take immediate steps to put one in place.
An optimal executive dashboard should give you the information you need to answer four primary questions:
Are you growing?
Are you profitable?
Are you executing for your clients or customers?
Are you retaining and growing your client base?
Today, businesses are swimming in data both inside and outside the enterprise. While lots of it can be used intelligently, it's difficult to cull valuable nuggets from the pile and assemble it in ways that deliver useful insights.
Moreover, much of the data available to your business looks backward (e.g., last month, last quarter, last year) at performance and other important metrics. As a result, you as an executive can't plan for growth, monitor current progress or intervene to prevent the ship from going off course.
In our work with businesses of all sizes and scopes, we've defined four crucial elements of an effective executive dashboard:
1) Client/market-related data.
This includes insight such as:
Client churn – to what extent are you retaining, and keeping clients happy? It's six times more expensive to acquire a new client than to keep an existing client. Most clients will never tell you of their concerns; rather, they almost always vote with their feet. Nearly all businesses are well served to build and nurture existing client relationships. Your ability to do so – as evidenced by client churn data – should by itself provide a valuable assessment of your business' current performance.
Average purchase size – say, for example, that an average sale for your company is $10,000. Recently, though, that figure has started to drop off. Including this metric on your dashboard is vital; first and foremost, it alerts you to the issue, and by extension, may provide insight on why that is happening. From this, you can plan remedial actions or be better informed when it comes time to forecast things like raw material purchases.
Shift(s) in products purchased – this can help you understand if your clients'/customers' needs are changing. Maybe someone is buying steel components from you today, but what they really need is wires to connect those things together. Or, perhaps the volume of steel purchases is declining, and complementary products – nails, screws, grease, wire – is increasing. This could mean customers have over-ordered, or even found an outside supplier that's cheaper for consumables. If volumes change, or what they buy from you changes, this metric alerts you to it.
2) Margin.
If gross and/or net margins drop, but revenues remain constant, that could point to an increase in expenses, or a decrease in production efficiency. Again, your executive dashboard should provide the tools to help you understand how margins are changing and why. Are the reasons behind change seasonal, or due to unusual or unforeseen circumstances? Your dashboard should be equipped to allow you to click on a margin-related metric, see what's happening in real time and understand what's driving that issue.
People make purchasing decisions on three primary drivers: price, quality and relationship. Price is the first thing they'll switch on, they will start to sample next on quality, and finally, relationships. If sales of your products are decreasing, that may be a sign that someone has undercut your prices.
3) Execution. Companies run in transactional ways with associated transactional activities. Dashboard metrics that track execution on key activities – e.g., product launches, lead generation/pipeline initiatives, product and service launches – offer both quantitative and qualitative measures of progress and success. Take lead generation, for example. An effective dashboard should quantify the number of active leads, measure that volume against established criteria, specify which deals are closing and so on. Some of these measures may need to be manually collected and are more subjective—but they still provide valuable insight into what's working.
4) Talent. We include this last, but it's far from the least important. Companies of all sizes and scopes face talent challenges—and meeting these challenges is in many ways an existential necessity. Talent metrics on an executive dashboard are crucial in helping you determine whether you have the capacity to deliver against your client commitments. They help you answer important questions such as:
Do we have enough people to meet our commitments?
Can we deliver on time and to the right level of quality?
Do we have the right skill sets?
Are our people producing effectively?
What does our hiring pipeline look like?
What is our "win rate" on hiring?
What is our staff churn rate (and what may be causing a higher churn rate)?
If we have vacancies, can we fill those in a timely manner with highly qualified people? If not, what does that do to our production backlogs?
Again, a properly designed executive dashboard should enable you to accurately gauge the effectiveness of the core drivers of your business at any given point in time, draw intelligent conclusions and determine the right course of action for you and your team. If you have an existing dashboard in place, I recommend that it includes measures for each element described above. If you're looking to develop one, it's best to consult an experienced business professional with data analytics capabilities.
Freed Maxick Can Help
Do you have questions about designing and deploying executive dashboards, or other business advisory issues? Please contact Freed Maxick at 716.847.2651, or click on the button for a contact form.
View full article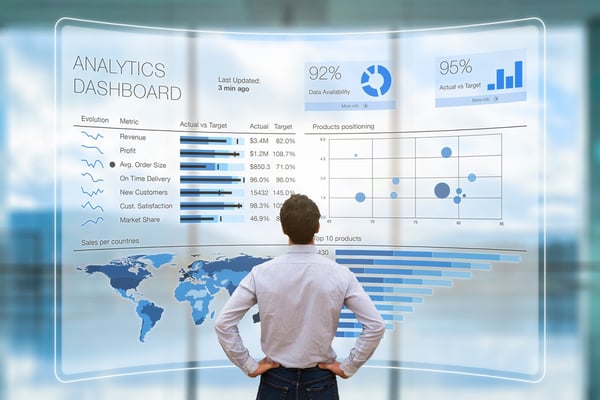 An overview of business intelligence technology, skill sets and processes that turn data into insights and insights into actions.
For the past several years, business intelligence has consistently been identified by executives as a top 3 initiative for their organization.
They're looking to data to identify opportunities to optimize efficiency, reduce waste, mitigate risk, improve revenue (or collect more of what is owed to you), reduce overtime costs, and identify the most profitable customer relationships.
The road to fully functional, well received and highly impactful business intelligence capabilities is a "just right" combination of skilled human resources, processes, and sophisticated technology/software for mining, monitoring and reporting on data trends.
That combination needs to include management action for turning mined data insights into actions and measurable improvements.
For organizations looking to make an investment in business intelligence (or for those looking to upgrade their existing resources and technologies), this blog can serve as an overview for the key components you'll need to ensure that you'll get the return on investment you seek.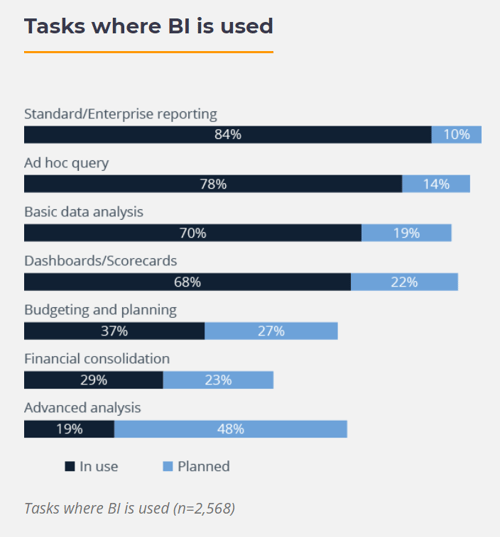 Source: BI-Survey.com: Finding the Right Business Intelligence Tool

The Technology of Business Intelligence
There are quite a number of tools, technologies and software available for business intelligence, and with abundance comes the opportunity to craft a business intelligence solution that's exactly right for your firm and its situation. Whether it's securing insights for growth or even benefiting from opportunities embedded in real time data, its no wonder that big data and business analytics is predicted to grow to a $187 billion market in 2019.
Many firms turn to consultants to help them select, customize, implement, monitor and train staff on using business intelligence. Generally speaking, BI solutions are integrated with existing systems, but can be a standalone application or even part of ERP, CRM or ecommerce systems.
Business Intelligence Inside Your Company
Successful business intelligence implementation require that your organization make investments in individuals who have the skills to:
Build data migration jobs to move critical data to a single data repository,
Manage those data stores and optimize their performance,
Understand the organization's business imperatives and related data
Present that data using the appropriate toolsets and software, and
Make it simple for stakeholders to access that data and leverage for making informed decisions.
Business intelligence can have a steep learning curve and be challenging to roll out in large organizations. Your consultant should be coming to the table with a well-crafted plan for managing the human equation of business intelligence, including a deployment schedule, staff training, monitoring and real-time assistance, particularly in the early stages of adoption.
With a well-crafted roadmap in place, companies can efficiently and effectively move from using static spreadsheets for managing their business to interactive and dynamic tools built on real and/or right-time information.


Business intelligence Investments and Freed Maxick
Business intelligence is a path to significant competitive advantage if staffed with the right team and implemented with the right technology. However, investments in business intelligence hardware and software are expensive, the skill sets needed are relatively scarce in the local job market (thus also expensive), and the ROI on those investments take time to realize given the learning curves and stops/starts of organizations on their business intelligence journey.
At Freed Maxick, we've already made those investments in best-of-breed technology, experienced DBAs and business intelligence developers. We offer business intelligence services that rapidly enable an organization to make the leap from static spreadsheets to interactive and dynamic dashboards with real or right-time information.
Whether you need a fully outsourced team or merely supplemental assistance on specific business intelligence initiatives, we're certain we've got the right approach to suit your needs.
To discuss your organization's situation and explore the possibilities of implementing a business intelligence capability, call me at 716.847.2651, or connect with me here.
View full article