What does you Fair Lending compliance program look like and how will the regulators view it?
Regardless of size, regulators are turning up the heat on fair lending compliance requirements for financial institutions. In fact, even smaller institutions are now required to perform quarterly analysis on their lending data.
Seems a bit much but regulatory scrutiny of large banks is increasingly being applied to smaller institutions.
Most of us think of the Equal Credit Opportunity Act (ECOA) and Fair Housing Act (FHA) as the sum of air Lending requirements, but, there are many regulations associated with Fair Lending.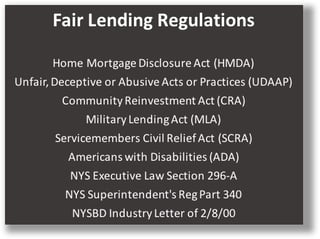 The number of Fair Lending enforcement actions and fines will continue to increase. Ask American Express Centurion and FSB, Fifth Third, Hudson City, Nationstar, Bancorp South, Hudson City, Toyota Motor Credit, Honda Finance, Provident Funding, National City and Synchrony about their experiences and they'll tell you that regulatory oversight is active, aggressive and intrusive.
Is Your Fair Lending Program Compliant?
A critical factor for assessing your Fair Lending program's compliance is your overall Compliance Management System (CMS), and whether it matches the size and complexity of your institution. These systems can go from simple spreadsheets to complex vendor software but if your CMS matches your institution's size and complexity, you'll likely be okay.
The hard part is figuring that out. There are three areas of compliance that deserve special attention: risk factors, responsibility for compliance, and training.
Fair Lending Compliance Risk Factors
Some of the biggest risk factors that will come under regulatory scrutiny are your institution's lending policies, pricing variability (indirect lending), underwriting and marketing.
Review your lending policy for anything that can be perceived as prejudicial such as minimum loan amounts (disparate treatment and overt discrimination). Disparate impact is more difficult to understand. There is no shortage of banks that have been accused of red-lining while not intentionally discriminating against a prohibitive class.
Review your indirect lending program and understand your dealer footprint. The program review should include controls such as contracts that are clear on Fair Lending requirements, underwriting standards, pricing controls and training. Your organization should review indirect lending data from low to moderate income (LMI) tracts against loans outside of those areas for potential disparate impact to consumers.
Distributed manual underwriting presents a significant risk as it will be more judgmental and contain process variance. Automated underwriting systems generally reduce risk in underwriting as they are truly impartial and they reduce process variance. It is critical that your institution's automated programming is well tested and matches your policies and procedures.
Marketing efforts, if not designed and published correctly, can be red flags to regulators and the public at large. This applies not only to advertising, but to your strategy, web presence, unsolicited mailings, targeted programs and branch promotions. All materials should be approved by the compliance department.
Fair Lending Compliance Responsibility
Who is responsible for compliance in your organization? Is it the compliance officer or does the tone from the top indicate that everybody (particularly senior management) is responsible for compliance?
Regulators will be now applying a Consumer Compliance (CC) Rating system to your Fair Lending compliance efforts going forward on a 1 – 5 scale (with 1 being the best). The critical factors in rating the CMS are Board and Management Oversight and Compliance Programs. FFIEC commentary indicates that there are carrots and sticks in this approach, but what can we reasonably expect? Are you performing self-assessments and self-reporting noted issues? This is supposed to be the carrot but it likely won't matter if your overall program isn't up to snuff or you have created harm to consumers.
A big component in your CMS should be addressing change management. If you are able to manage both regulatory change and process change that contemplates and addresses controls and regulatory requirements, you should be in pretty good shape. Strong project management together with an understanding of compliance is required.
Fair Lending Compliance Training
Fair Lending compliance training is a hot topic and training requirements are getting more and more comprehensive. Much like with Bank Secrecy Act requirements, institutions should be able to demonstrate that training materials are up to date and adequate, including differing and possibly more onerous State regulations.
Mostly everyone in the institution should be receiving Fair Lending training, but training for new hires is a must when they come on board and throughout their tenure with your institution. If new hires are customer-facing, or involved with lending in any way, training should happen within a reasonable time period after hire.
5 Questions That Will Help You Do a Fair Lending Compliance Self-Assessment
Before regulators cross your threshold again, here are a few questions that can help identify potential issues:
Does your Fair Lending program reside in a silo or does it interface with HMDA and CRA?

Is your Fair Lending policy a simple statement regarding compliance with FFIEC guidance or does it contain aspirational statements and more specific policy requirements regarding what your Fair Lending program will accomplish?

Does your Fair Lending risk assessment include high level statements about markets and trends?

Does your risk assessment contemplate your institution's risk appetite or tolerance?

Are you risk rating varying product types separately?
All of these things will affect how your examiner views your program and how your examination goes. Maintaining a strong CMS, including robust and thoughtful risk assessments and policies (and complying with them) can go a long way towards reducing your regulatory burden during a Fair Lending (or any other) compliance exam.
Freed Maxick Can Help You Evaluate and Remediate Your Fair Lending Compliance Program and Policies
For more information about our services for financial institutions, or for a quick assessment, connect with us HERE or call Sanath Rajapakse, Director (Partner) in Freed Maxick's Enterprise Risk Management (ERM) practice at 716.847.2651 today.