The Role of Internal Controls for Detecting and Eliminating Employee Fraud and Abuse
According to the Association of Certified Fraud Examiners (ACFE) in their 2018 Global Study on Occupational Fraud and Abuse, organizations lose an estimated 5% of revenue to fraud annually.
While this is only a general estimate based on the Certified Fraud Examiners (CFEs) that participated in the study, if that 5% loss estimate were applied to the United States Gross Domestic Product for 2017 (about $19 trillion), total fraud loss to US companies would be around $950 Billion.
The Impact of Poorly Designed Internal Controls on Preventing Corporate Fraud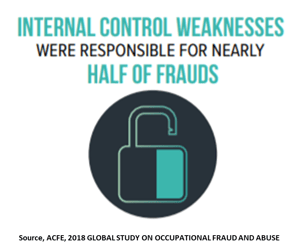 Whether you're a small company or large organization, every entity can be susceptible to fraud or employee theft. When internal controls are poorly designed, or not operating effectively, employee theft can occur and remain undetected.
Typically, fraud begins as an undetected incidental error. But if undiscovered, perpetrators may be emboldened to commit the fraud again, usually on an even larger scale. It's likely that they'll continue until they are eventually caught, whether it be by their own mistake or by someone within the organization.
In fact, the worse the control environment, the longer the fraud will continue.
According to the ACFE, the median duration of a fraud scheme is 16 months.
Internal Controls are the Best Way to Prevent and Deter Workplace Fraud
If you believe that the facts or circumstances point to the existence of fraud in your organization, you may want to consider conducting an independent fraud examination; consisting of specific procedures that are necessary for determining whether fraud has taken place and how it occurred, or for the existence of red flags indicating that a fraud is at hand.
If a fraud has occurred, the examination can also determine who was responsible and provide an estimate on the scope and size of the theft. It will also help determine if the issue is the result of an honest mistake, or if there was intent to defraud.
One of the most important characteristics of a corporate fraud examination is to determine if existing internal controls failed or were circumvented. Then, new controls for preventing similar attempts and protecting against future losses can be developed and implemented. Often employees that steal from one area of the company may steal from other areas as well.
One of the most important yet frequently ignored controls is the development and enforcement of proper segregation of duties and oversight. Certain activities should not be performed by the same person or even by the same department in order to prevent embezzlement and its coverup. Even your most trusted employee can become susceptible to pressures in their personal lives leading them to commit fraud, so it's important to remove as many opportunities and install as many protections as necessary to deter theft.
Unfortunately, many companies and organizations learn too late that an issue with segregation of duties can be catastrophic. You should understand where your company is at greater risk or exposure to employee fraud and begin an evaluation and revamp at those points.
Moving Forward Once Fraud is Suspected or Confirmed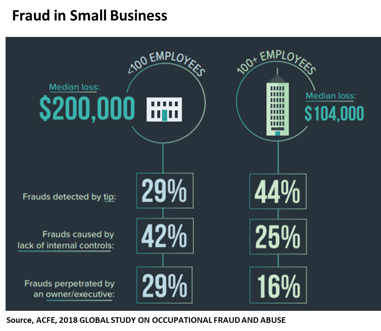 Weak internal controls don't necessarily mean that fraud is occurring in your company or organization right now, but it does mean that you are at risk as an environment in which fraud can be perpetrated exists.
Conversely, having strong internal controls does not preclude fraud from occurring. If fraud is suspected, or has been uncovered in your organization, you need the ability to investigate what happened, what is needed to correct it, and if necessary, referral of the matter to law enforcement.
Freed Maxick Can Help Detect and Prevent Corporate Fraud
Freed Maxick has team of Fraud Resolution Experts that are here to help.
If you have concerns about a suspected or confirmed occurrence of fraud for or against your organization, contact one of fraud specialists here, call us at 716.362.6244, or email Richard.Graesser@FreedMaxick.com to discuss the fraud resolution services that we offer.
We are able to assist with conducting a fraud examination, implementing internal controls to prevent fraud, or independently assess the design and operating effectiveness of the current control environment.
We will work discretely and confidentially with you and your organization to mitigate the effects occupational fraud has on your organization.